Filter by Category
Personal Finance
Microsoft Excel for Business
with Donna Rose

Sep 10, 2019 at 7 pm

, runs for 10 weeks
The course will cover advanced features such as Pivot Tables, data analysis and charting. We will also cover Excel's database capabilities and user-created automation using powerful tools such as macros. Many lesser-known tips and tricks will be revealed. After the hour-long period of core content, the remainder of the class may be used for user-driven experimentation and one-on-one Q&A.
Note: Each participant will need a laptop with Excel software.
Donna Rose has 35 years of extensive training, consulting and software development experience. Highly skilled in platforms including the Microsoft Office suite, relational database architecture, and several coding languages, Donna is an Excel Power User.
Will run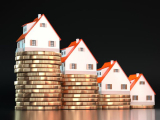 The Basics of Real Estate Investment--Public and Private
with Paul Larner

Nov 1, 2019 at 5 pm

, runs for 3 weeks
Learn how to calculate real estate rates of return such as the "NOI Yield," "IRR," "Yield after Capex," "Dividend Yield" and the impact of appreciation in real estate investing.  The class will review simple examples for both private real estate and public companies, i.e "REITS."  If time allows we will discuss briefly the taxation of real estate and its special favored status under the Internal Revenue Code including a brief discussion of "pass thru entities."
Paul Larner has been an active real estate investor since he was 18.  He is the managing partner in 10+ private investment partnerships and since 2011 has run a small hedge fund called "Real Estate Securities Income Fund" that delivers a 10% annual return.  He was the former Chief Financial Officer of Charles E. Smith Commercial Realty in NOVA which was a $2.5 billion company and  was the lead executive in its merger with a publicly traded REIT named Vornado realty Trust.